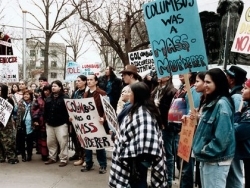 Audio clip: Adobe Flash Player (version 9 or above) is required to play this audio clip. Download the latest version here. You also need to have JavaScript enabled in your browser.
Reading the Sopranos, Investigating the Sopranos, The Psychology of the Sopranos, The Sopranos and Philosophy: I Kill Therefore I Am, The Sopranos on the Couch – Analyzing Television's Greatest Series, A Sitdown with the Sopranos: Watching Italian American Culture on TV's Most Talked-About Series … keine us-amerikanische Fernsehserie ist so intensiv diskutiert wurden wie HBOs The Sopranos. Wir haben die umfangreiche Literatur gesichtet und werden bei previously in loser Fortsetzung die interessantesten Analysen vorstellen. Heute Teil 2: italienische Immigration, italienisch-amerikanische Identität und Christopher Kolumbus.
---
Audio clip: Adobe Flash Player (version 9 or above) is required to play this audio clip. Download the latest version here. You also need to have JavaScript enabled in your browser.
Keine Space Opera ohne Außerirdische. Dies galt lange Zeit als feste Genre-Konvention. Man denke dabei nur an die Alienvielfalt bei Star Trek und Star Wars. Aber auch bei jüngeren Science Fiction-Fernsehserien wie beispielsweise der Stargate-Saga basiert die Grundidee auf der Begegnung mit einer anderen Spezies.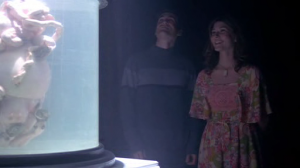 Eine der wenigen Space Operas, die dieser Konvention zumindest auf den ersten Blick nicht folgt, ist Joss Whedons Science Fiction-Western-Serie Firefly, die wir bereits in der letzten Ausgabe vorstellten. Hier gibt es gerade mal einen Außerirdischen, der konserviert und präpariert einem schaulustigen Publikum für teures Geld auf einem Weltraum-Jahrmarkt dargeboten wird, und der sich jedoch beim genauen Hinsehen als deformierter Kalbsfötus entpuppt.
Und doch gibt es sie in Firefly, die Repräsentation des Anderen und Fremden… (more…)
---